Well here it is! The race nobody has been waiting for, the Tour of Beijing. Its the last opportunity for teams to scrabble about for some valuable UCI points in the polluted air and spectatorless roads of China's capital.
The UCI's own rules and advice talk about how 'Each Team taking part in cycle races shall constantly and systematically ensure that its members are in proper physical condition to engage in cycling' and that 'the organiser should avoid heavily polluted areas as much as possible.' Thanks to inrng for finding these tidbits. Note the chart stating that 'healthy individuals should avoid outdoor activities' at 300+. Nevertheless the UCI can, and will, ignore their own rules, as we have seen in the past.
Anyway, never mind the pollution eh? What about all that money the UCI will be pocketing from this? Surely that's worth risking the health of 140 or so riders. Also we wouldn't want Pat and his cronies at Global Cycling Promotion to look silly by not holding the race would we? This is what Taylor Phinney was training in today. Looks like perfect conditions for a five-day stage race with over 750km of racing, no?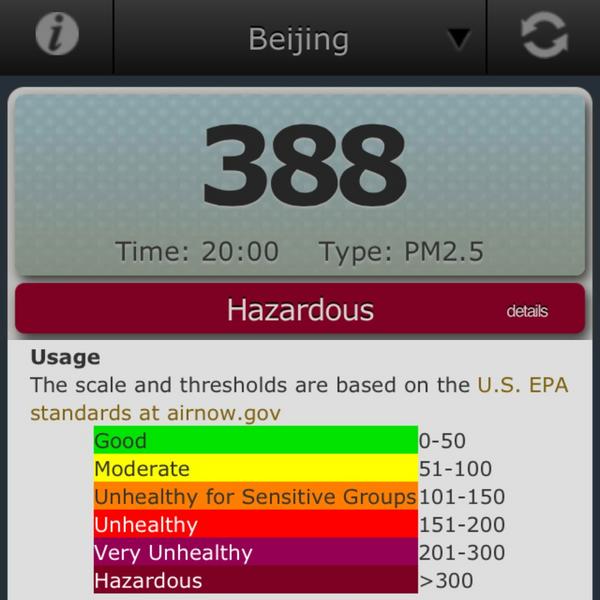 To add to the problems, Japanese-backed Argos-Shimano was forced to pull out of the race due to the political tension between China and Japan over the East China Sea Islands. If cyclists are unable to compete due to political (or safety) reasons, then why is this race allowed to go ahead?
If you remember last year's race (no, me neither) then you'll know that there was a time trial and not much else in terms of the parcours. However, this year there are some hills, and even an uphill finish.
Stage 2 looked interesting, but has been changed due to flooding, while stage 3 is this year's queen stage. It finishes atop a mountain (10km at 6%) and should be decisive in terms of the GC.

Here's the startlist for anyone interested. One of these riders will thrive on the Carbon Monoxide to take the glory. A map of the race is available here.